I know it is hard to believe that some people are already thinking about Fall and Winter. It is especially hard for me to believe this when my air conditioner is cranking non-stop just to keep my house at a balmy 76 degrees. But, in the fashion world, folks are always thinking way ahead!
Last week, Crocs Inc. revealed what will be their line of shoes for the 2008 Fall and Winter season. Of course, this big announcement was made in New York City at the Fashion Footwear Association of New York (FFANY) trade show. Now, we obviously cannot visit the show since it ended on June 5th, but we can tell you about some of the Crocs styles that we can expect to see in the coming months.
In the coming cooler months, Crocs is expanding the Fuzz collection with cozy flats and boots. The six new styles in the Fuzz collection really embody the innovation of Crocs shoes by combining Crocs' signature comfort along with soft synthetic fur linings. Crocs and fur… an interesting combination, to say the least! To me, this spells COMFORT!
Keep your eyes peeled for the Crocs Nanook and the Crocs Nadia. Both of these styles will be available in an array of colors and come in a wide range of Women's and Girl's sizes.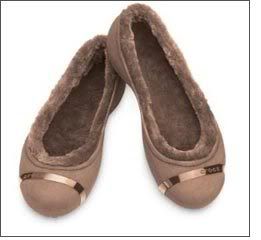 Additional models in the Crocs Fall 2008 lineup include:
• The Crocs Ambler, a fleece lined casual boot for the guys with a leather upper
• The Crocs Juneau, another for the ladies, with a new take on a classic flat with fun elastic detailing and chic feminine design
Get ready to start shopping for your new Fall and Winter Crocs beginning in September.